Posted by on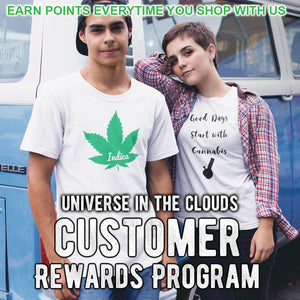 We launched a new Rewards program, it's going to be called "Cloud Rewards" I think that is a great name for it. In addition to rewards for every dollar you spend, you can now earn discounts, free merchandise, and exclusive "Cloud rewards-member" merchandise that will not be available to the general public or listed on the website. The Universe In The Clouds Team is thinking, maybe Tie- Dye for The Members Only Rewards Program, but we will you the rewards members vote on what t-shirt design is produced for the "Cloud rewards Member" merchandise. The Rewards program is going to be...
Posted by on
If you are new to the world of cannabis use and you aren't sure what the best way to enjoy it is, then you might find yourself in way over your head in short order. While many people come to enjoy cannabis for the first time by smoking a joint,
 with legalization taking hold in many places across North America, it's becoming more mainstream to use cannabis in different ways.
Tags:

badassglass, blog, bong, bong or joint?, cannabis, cannabis blog, joint, marijuana, marijuana blog, sarahbadassglass, stoner, stoner blog, thc